Men's Health Week 2020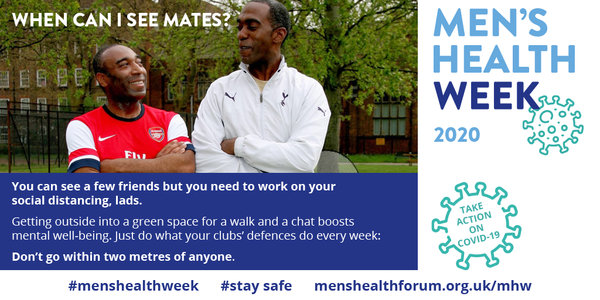 Mon 15 Jun 2020
A week of focus on Men's Health worldwide 
International Men's Health Week is celebrated every year around the world in June. It is an important opportunity to highlight men's health and what it means to be healthy.
Corona Virus and Men - Find out more here
Men's Health by Numbers - Find out more here 
Diabetes - Find out more here 
Hazardous Waist -  Find out more here 
Beating Stress - Find out more here 
Healthy Living - Find out more here 
Work and Health - Find out more here 
 A Call For Action!
by Abdul - Health and Wellbeing Advisor (Springwood Leisure Centre.
"20% of men will not reach retirement, 1 in 5 will die before 65 years of age. The biggest single cause of death in men is cancer. 75%of premature deaths from coronary heart disease".
Why women normally live longer?
Men more likely to smoke than women (22% of men reported smoking compared to women)
Men are more likely than women to drink alcohol at a hazardous level. (14% of men reported drinking an alcoholic drink on five or more days in a week compared to 9% of women)
67% on men are overweight or obese. Men are more likely to eat too much salt, red meat and processed meat.
Participation in activity amongst men declines with age. (83% of men aged 16-24 met the recommendations for physical activity, compared with 57% aged 65-74 )
The list goes on, all figures reported by Cancer Research Uk and Mens Health forum 2015.
It's not all doom and gloom, we can say what causes what, but maintaining a healthy lifestyle is
the biggest single thing we can do to prevent serious diseases such as cancer and cardiovascular
disease.
When we were growing up the responsibility for your food and drink intake primarily was our
parents and carers. At some point as adults we have to make conscious decision to change our
habits. There's a lot to learn from this COVID-19 crisis. we have all changed the way we do things
from eating together, cooking more and getting out for daily exercise. The time after work we used
to take for granted, sit in front of the telly and eat and guzzle down what ever we fancied with no
consequence. living for the weekend.
Men and women display different attitudes towards health and illness. health is often constructed
as a feminine concern and men therefore have to behave as if they are unconcerned about their
health if they wish to publicly sustain a 'real' male identity( Ref A .White)
This is a one way ticket with no return, make the most of it, to your best ability.
Your not alone, our Well-being Advisor's are always on hand to help. From the smallest of advice to individualised programming. Its about taking small steps, leading to change.
Don't fall for the hype, `Rome was not built in day.' We can help lay the foundation for the rest of your life.
I entered the fitness industry to leave that blueprint for my loved ones, having lost family members to the aforementioned diseases. Make that change today, prepare for tomorrow.
As lockdown eases and facilities start to open, be ready for the road ahead - Derby Active is here to help! 
Looking forward to welcoming you back to Derby Active.
Abdul - Health and Fitness Advisor. 
What does being fit and healthy mean to you? 
Adam - Assistant Manager Health and Fitness (Springwood Leisure Centre)
'Being fit and healthy to myself means being healthy in body and in mind. Through recognising my own mind when I feel stressed or anxious exercise is the best release for me and being outdoors is even better. Walking, running and cycling in the Peak District which we're lucky in Derby to have on our door step.  It also means setting a good example to my daughter and being a positive roll model.'
Join Derby Active at Home 
For fitness and wellbeing advice, visit the Derby Active at Home page. We have lots of free information for you and your family to enjoy, while you are at home.