Derby Active Health and Fitness offer - Join for £15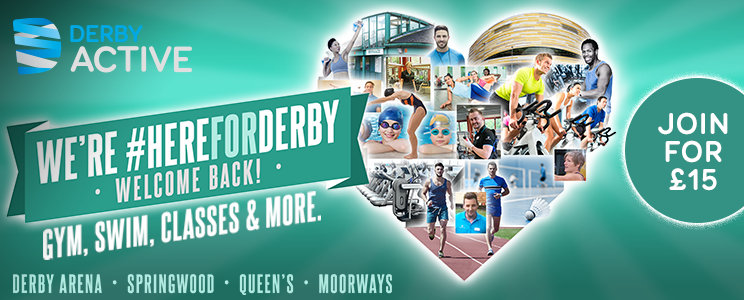 Sat 29 Aug 2020
Time to return back to a new 'normal' with kids returning back to school, more of us back in the work place or continuing to work from home.
Hopefully we will all be getting back to a daily routine in September.
Do you need some 'you' time or motivation to pick up your fitness journey?
Derby Active can help! We are proud to provide high quality, safe and fun fitness classes, swimming and gym sessions at Springwood Leisure Centre, Derby Arena and Queen's Leisure Centre. 
We have your safety as our priority, with online booking systems, increased cleaning routines, limited  session numbers, additional space to ensure you fee comfortable while exercising, plus the advantage of three venues to chose from. 
Choose from gym, classes and swimming to build your membership, find out more on our Derby Active memberships page. 
Our Health and Wellbeing Advisors are here to help you with our new 'Your Plan', which includes a 12 week free programme with four 1:1 sessions.
So if you need to lose a few pounds, tone up or just generally feel healthier - we can help!
Join now from 1 to 15 September for only £15, then pay nothing until 1 October.
Join online using the promotion code: Join15
Click here to join online now! 
Terms and conditions 
Join from 1st September 2020 – 15th September 2020 for £15.00.
To be eligible for the offer you will need to set up a Direct Debit payment schedule for a membership of your choice.
This offer applies to all Derby Active membership options paid, see inderby.org.uk/join for membership information.
Derby Active Health and Fitness memberships can be used at Derby Arena, Springwood Leisure Centre and Queen's Leisure Centre.
Please check facilities available at each location, applicable to your membership choice.
All new members must book a personal fitness plan session by contacting the centre of their choice.
The offer is only available to new members, and those who have not held a Derby Active health and fitness membership eight weeks prior to purchase of the offer.
The membership is not transferable or refundable.
Standard health and fitness membership terms and conditions apply, please ask at a centre reception or visit inderby.org.uk/termsandconditions
30 days' notice required for Direct Debit cancellation. A cancellation form must be competed at the centre of joining to confirm cancellation, for more information please ask at a centre reception or visit inderby.org.uk/termsandconditions
This membership offer is subject to availability.
Due to the current COVID19 restrictions some services and activities may be limited or changed depending on government guidelines.
Derby Arena welcome back video